Introducing Leigh Film...
Leigh Film Society is a not for profit organisation which is run entirely by Volunteers.
The society was founded in 2013 with a small but loyal following and our membership has steadily grown ever since. Our initial funding came primarily from the National Lottery. We later submitted an application for the British Film Institute (BFI) "Neighbourhood Cinema" scheme which led to us recieving a substantial equipment donation.
This enabled us to put on more professional screenings in a larger premises, for more people per screening. We are also active members of Film Hub North West and Cinema For All (formerly the British Federation of Film Societies), which has been representing the film society movement since 1925.
We are a group of film & movie enthusiasts who want to provide and share a community cinema experience. We want to inspire you with our film selections.
We aim to screen films that will not always be mainstream blockbusters. We want to push peoples film choice boundaries a little, offering a mix that includes classics, foreign language, art house and films that you've likely never even heard of. Don't worry though, we cover all genres...

Leigh Film Society is a charity, number 1183891, registered in England & Wales and as such we have our constitution, which is available to download here.
Leigh Film Society constitution document


We take our role within the community very seriously and as such, we have in place a "Safeguarding Children and Vulnerable Adults Policy". This can be downloaded from the link below.
Safeguarding Children & Vulnerable Adults Policy document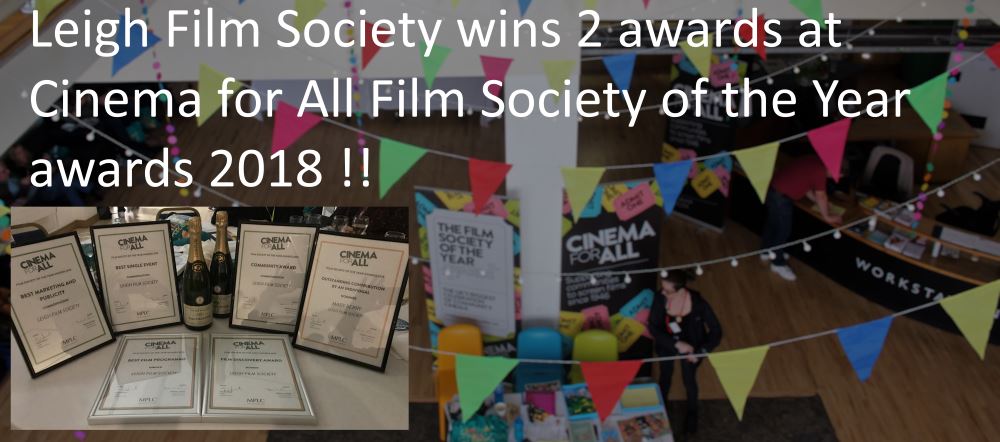 Leigh Film Society have won more awards at the prestigious Film Society of the Year event held by Cinema For All in Sheffield. We collected the Film Discovery Award for the 2nd year running and we also won Best Film Programme, a traditionally more hotly contested category for the first time.
On top of this success, we also received Commendations in the Best Marketing & Publicity, Best Single Event and the Community Award categories. Click here to view our awards!
Mary Berry, a member of Leigh Film, also received an Outstanding Contribution by an Individual nomination. Click here to see pictures from the night in our Gallery. Click here to see a full list of winners from the event.
The Queens Award for Voluntary Service

Leigh Film are extremely proud to announce that we have been awarded The Queens Award for Voluntary Service for "Providing socially-inclusive cinema screenings for everyone in the community and broadening access to culture".
This award recognises the hard work that all our Volunteers put into every event, be it a regular monthly screening or a special event. Well done all at Leigh Film!!
The society have now received a signed letter from the Queen (click here to see that) and a glass trophy which was presented at a special ceremony, held at The Monastery in Manchester in August 2019. Pictures can be seen by clicking here.